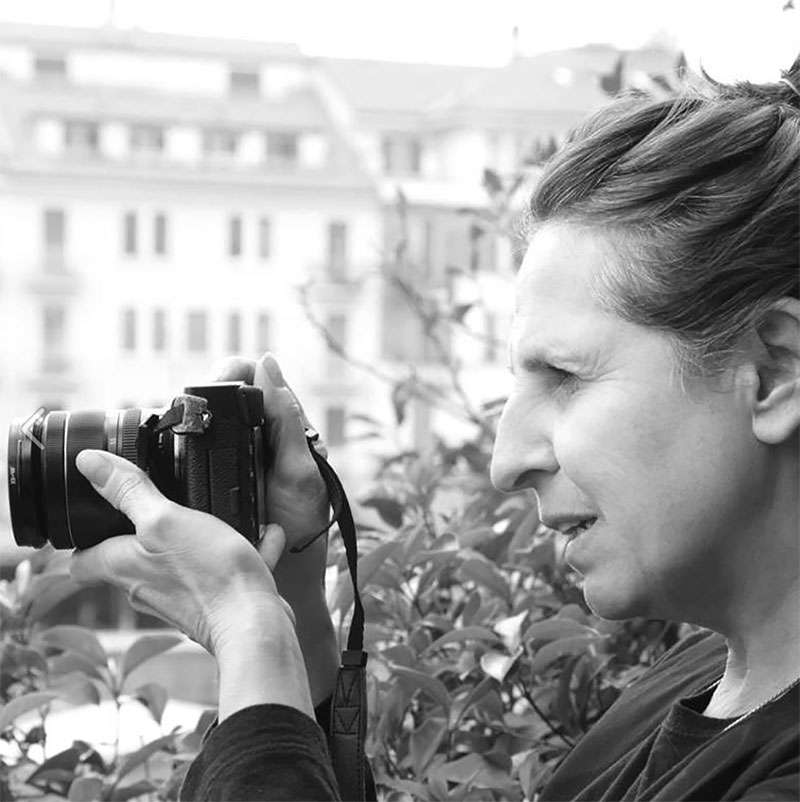 Bruna Rotunno is an italian artist based between Milan and Paris working with photography ,video and digital art
2022- "Being Human" Solo Show- Epipla Gallery- Milan2022- MIA PhotoFair2021 – MIA PhotoFair
2019 – Women Street Photographers – NYC
2019 – "(Un)framing Identities – Hundred Heroines,Royal Photographic Society – London
2019 – "De Finibus Terrae", Duo Exhib with Fabian Albertini.European Parliament, Strasbourg.
2019 – "Another Earth", Solo Exhib.Red Gallery, Milano.
2018 – "Lieu Non Lieu", Group Exhib.Museo Emilio Greco,Catania.
2018 – Life Framer Photography Award-shortlisted
2018 – Prix dela Photographie, bronze award and exhib.Espace Beaurepaire-Paris
2018 – "L'île des Dieux",Solo Exhib,Marie 1ere de Paris,place du Louvre-Paris
2018 – "Wall to Wall",Group Exhib.Molin Corvo Gallery-Paris
2018 – "Women in Bali",Solo Exhib.Sacred Arts Gallery.Sai Kung,Hong Kong
2017 – "Matter",Group Exhib.Joyce Gallery-Palais Royal-Paris
2017 – "Walking The Path",Group Exhib.Molin Corvo Gallery-Paris
2017 – "Women in Bali",Solo Exhib. MAO,Museum of Oriental Arts-Turin
2016 – Tokyio Intl Foto Awards-Honorable Mention
2016 – "Women in Bali",  book launch ,Fivelements, Ubud ,Bali
2016 – "From which none of us can escape" ,duo exhibition ,Italian Embassy ,New Dehli.
2016 – Prix de la Photographie- Paris .Silver Award and Honorable Mention.
2016 – "Women in Bali", Solo exhibition. Visual Arts Gallery, India Habitat Centre, New Delhi.
2016 –  Sotheby's and Scatti per Bene, Auction, Exhibition Triennale -Milan
2016 – "Women in Bali" The book. Publ.  Silvana
2015 – "60 Grandi Fotografi 60 Grandi Architetti." group exhib., Spazio Martini Light, Milano.
2015 – Sotheby's and Scatti per bene -Milan
2012 – "Alluminium Still" Solo exhib., Blank Gallery, Gallipoli.
2011 – "A different walking" Solo exhib. Atelier Cristofoli, Paris.
2010 – "Shanghai 24h" Solo exhib. Triennale Bovisa, Milano.
2010 – "The magic of Lotus" Video Art. Client Loro Piana.
2008 – "Liquid Light" Video Art DoP-Collaboration with the artist Petulia Mattioli. Palazzo Lomellino, Genova.
2007 – "Timer" Video Art Direction and DOP. Triennale di Milano.
2006 – "Etno Folk a Cortina". Solo exhib. and book. A photographic collection of portraits and historical clothing. Cortina
2005 – "Sultans Dream" Short film. Biennale di Venezia. Direction and DOP.
2003 – "Aids Party" Group exhib. with artists like Helmut Newton, Vincent Peters, Bettina Rheims, Jan Saudek – Salle des Etoiles of Montecarlo.
PUBBLICATIONS
2018 – "Gift of Kings" Pub.Skira
2016 – "Women in Bali" Pub.Silvana
2012 – "The Queen of the Andes" Pub.Skira
2010 – "The Lotus Flower" Pub.Skira
2008 – "The Long Journey of Excellence" Pub.Skira
2007 – "Etno Folk in Cortina" Pub. Renografica